We are proud to release our new school video that celebrates our wonderful students, talented staff and incredible parents.
TES Awards
---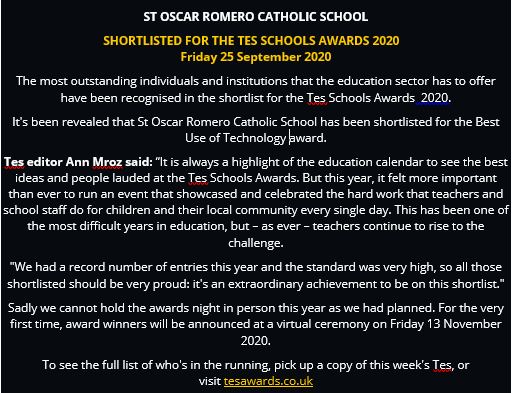 Please see more on this link

Students, staff and parents are celebrating another year of fantastic GCSE results at Chatsmore Catholic High School, now St Oscar Romero Catholic School.
In light of the extraordinary year, with grades being based on teacher assessment, schools in the Worthing area have agreed not to publish individual results. However, the school is delighted that for the third year in a row, the school has achieved record results, surpassing all previous attainment for prior years and confirming our continued upward trend of GCSE performance.
Stand out performances of individual students include;
Silas Turner who achieved 8 grade 9s, 1 grade 8 and 3 grade 7s
Kathryn Rimmer – 6 grade 9s, 3 grade 8s, 1 grade 6 and 1 grade 5
Millie White – 7 grade 9s, 1 grade 8 and 2 grade 7s
Evelyn Winton – 4 grade 9s, 2 grade 8s, 3 grade 7s and 1 grade 6
N Paulauskas – 5 grade 9s, 4 grade 8s and 3 grade 7s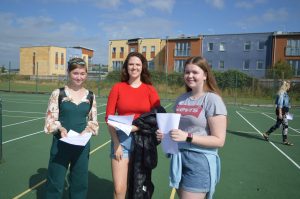 Headteacher, Mr Byrne said: "I could not be prouder of our Year 11 leavers. Despite the challenges of the pandemic our students remained focused and always gave their best. The results they have achieved reflect their hard work and have broken all previous records. It has been fantastic to see a record number of students achieve the highest grades of 7s, 8s and 9s"
Student quotes;
Millie White – "I'm extremely grateful to the staff at Chatsmore for all their hard work and effort over the years that has allowed me to achieve my grades and I am incredibly thankful for all the opportunities this school has opened up for me."
Silas Turner – "I'm very proud of my results and I am excited for the future. I worked very hard for my mock exams and I am so happy that my final grades reflects all the hard work I put in for my GCSE's."
Zane Cooledge – "After a long time of waiting and worry I believe that results day brought a pleasant surprise to many students, seeing everyone so pleased with the results they got showed how hard work paid off, and the teachers response was truly warming and welcoming to everyone."
Katie Cox – "Although it has been a strange year with unusual circumstances I am delighted with my results. I feel that all my hard has been recognised despite not being able to sit the exams."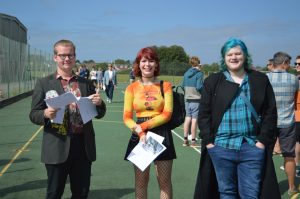 Mr Byrne added – "I would like to thank our incredible staff, both teaching and non-teaching, for everything they did to support our students in achieving such excellent results. Thanks also to our wonderful parents who play such a vital role in supporting the success of their child."