Mission Statement
The mission of St Oscar Romero Catholic High School is to help every individual to achieve the best that they can through giving witness to the way of life inspired by Christ and taught by His Church. In our journey we aim:
to pray and worship together
to develop a happy community where we achieve and experience friendship and respect
to love, help and support individuals in learning and faith.
So that each day we show that God is:

in our heads and in our understanding
in our eyes and in our looking
in our mouths and in our speaking
in our hearts and in our caring for our friends and family as we continue to build God's kingdom.
Ethos
At St Oscar Romero Catholic School, our students are provided with an education that challenges their intellect, gives spiritual growth, and offers abundant opportunity for personal development, so that they may "Aspire not to have more but to be more". The curriculum is founded upon Gospel values, and inspires students to reach their full potential to become who God has created them to be, by developing skills, abilities, and attitudes that enable them to have a positive impact and take an active role in their local and wider community.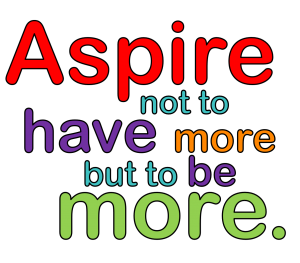 As a community, we take great pride in our students and their achievements. We find opportunities as a worshipping community to turn to God daily in prayer, giving thanks and asking for His blessing on all that we do. We strive to create a community in which every student knows that they are valued, and that they have the ability to contribute in diverse ways by taking up personal responsibility and roles of leadership within the community, in order to build up the Kingdom of God.
---
Prayer
At St Oscar Romero's, all students are encouraged and supported to have a rich and lasting relationship with God through prayer. This relationship is the strong foundation upon which we begin our day, whether that be in tutor groups, assemblies or liturgies. Each week we have a particular theme that we focus on, which is usually drawn from the Sunday Gospel reading of that week. You can join us in reflecting and praying with this Gospel reading each week with our Monday Meditation which you can find below for each week.
---
Chaplaincy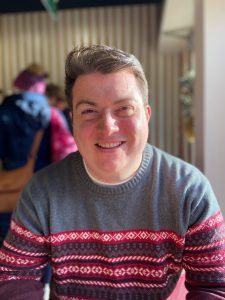 Hello, I am Niall Farrell and I have the great joy of being the School Chaplain here at St Oscar Romero's, as well as being the Youth Worker in our local Catholic Deanery. I believe the simplest way to explain my role is to say that I am here to support and enable each member of our community to become who God has created them to be, and to accompany them in the journey of discipleship so that they may learn more about who they are, and come to a deeper knowledge of and relationship with the person of Jesus Christ.
As school chaplain I love the variety that each day brings. I am fortunate to be supported by an amazing team of Faith Ambassadors who are a group of representatives from each year group, who have volunteered for these opportunities.
They contribute to the spiritual life of the school. Whilst providing a strong student voice their involvement includes planning and leading our school liturgies, logistical support for the celebration of the sacrament of reconciliation in Advent and Lent. They also provide creative and engaging activities relating to the Church Year and are a joyful presence in the school. This is just to name a few of their responsibilities.
As chaplain of the school I work closely with our RE Department and our Pastoral Team, as well as supporting the many enrichment activities in school. This means that I have the privilege of accompanying and guiding students as they explore and develop their relationship with God.
My door is always open, I am regularly found wondering school with brownies, or I can always be contacted via email [email protected]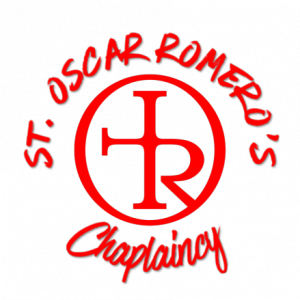 You can keep up to date with all that is happening in the chaplaincy by
following us on social media on Facebook, Twitter, and Instagram:
Facebook – @StRomerosChaplaincy
Twitter – @RomerosChaplain
Instagram – st_oscar_romeros_chaplaincy
---
School Faith Life
Through their time at St Oscar Romero's Catholic School, students will have the opportunity to encounter and deepen their relationship with Jesus and His Church in many ways including through:
Year 7 Teaching Masses, to explore the meaning and purpose of Mass with our local priests.
Year 8 Alpha Course, answering the big questions surrounding faith, life, and God. Brownies included.
Year Group Mission Days, with external speakers and workshop leaders, students dive deeper into what it means to live out their faith.
Tutor/Year Group/whole School Liturgies, coming together as a community to reflect on various aspects of life in the context of faith.
Residential Retreats, to offer students an opportunity to strengthen their relationship with God.
Join the Diocesan Pilgrimage to Lourdes, where they encounter other young Catholics, to assist the vulnerable, develop themselves and (re)ignite an active life of faith.
Throughout the year we hold many charity and community fundraising events that students are encouraged to take part in.
Time in the Chapel, where we are fortunate to have Jesus present in the Blessed Sacrament.
Involvement in Diocesan events such whole diocese celebrations and initiatives.