Computer Science
---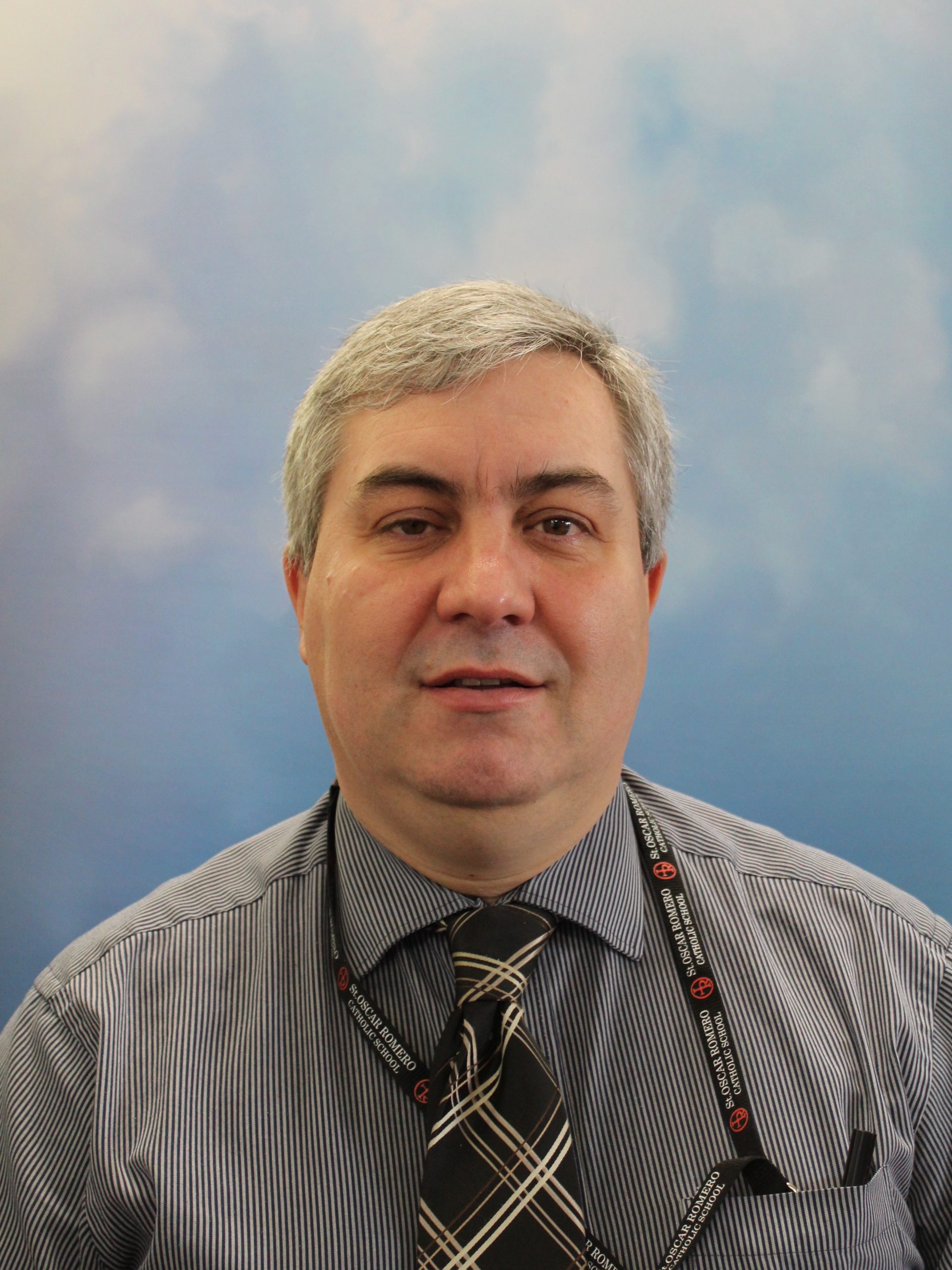 The Team
Mr R Challinor – Teacher of Computing
---
Introduction To The Department
Pupils studying Computing and ICT at St Oscar Romero School will develop a fundamental understanding of computing and its core principles of information and computational thinking. An integral part of learning includes the opportunity for pupils to explore technology in a rapidly changing world and its impact on society. Pupils will build on their knowledge and understanding of digital literacy to allow them to stay safe in the digital world they now live in.
---
Why Study Computer Science
A high-quality computing education equips pupils to use computational thinking and creativity to understand and change the world. Computing has deep links with mathematics, science, and design and technology. It provides insights into both natural and artificial systems. The core of computing is computer science, in which pupils are taught the principles of information and computation, how digital systems work, and how to put this knowledge to use through programming. Building on this knowledge and understanding, students are equipped to use information technology to create programs, systems and a range of content. Computing also ensures that pupils become digitally literate – able to use, and express themselves and develop their ideas through, information and communication technology – at a level suitable for the future workplace and as active participants in a digital world.
Progression from GCSE right through to degree is primarily through Computing and Mathematics courses, however having an understanding of programming will also be beneficial if you are thinking of going into the field of medicine or science, especially physics. Below is a list of some university degrees that have programming included in their courses:
BSc Computer Science and Physics at the University of Edinburgh

BSc Computer Science and Physics at the University of Aberdeen

BSc Physics at Imperial College London

BSc Computer Science at Open University
"Physics is a practical science and relies on data, so physicists need to understand how data is generated and how to analyse it. This covers a wide range of skills including the ability to use apparatus in the laboratory, to use computers to make calculations and analyse data, and to carry out project work".
---
Key Stage 3 Information – Computing
From Year 7 onwards pupils are taught to design, use and evaluate computational abstractions that model the state and behaviour of real-world situations. They use two programming languages to solve a variety of problems and develop modular programs that use procedures or functions.
Pupils undertake creative projects that involve selecting, using, and combining multiple applications, preferably across a range of devices, to achieve challenging goals. Underpinning all of this is the need to understand a range of ways to use technology safely, respectfully, responsibly and securely, including protecting one's online identity and privacy; recognise inappropriate content, contact and conduct and know how to report concerns.
---
Key Stage 4 Information – Computer Science
The GCSE covers TWO units of work:
Unit 1: Computing systems – this will introduce pupils to the Systems Architecture, computer memory and storage, wired and wireless networks, network topologies, system security and system software. It is expected that pupils will become familiar with the impact of Computer Science in a global context through the study of the ethical, legal, cultural and environmental concerns associated with Computer Science. It is expected that pupils will draw on this underpinning content when completing the Programming Project component.
Unit 2: Computational thinking, algorithms and programming – this incorporates and builds on the knowledge and understanding gained in Unit 1, encouraging pupils to apply this knowledge and understanding using computational thinking. Pupils will be introduced to algorithms and programming, learning about programming techniques, how to produce robust programs, computational logic, translators and facilities of computing languages and data representation. Pupils will become familiar with computing related mathematics.
Assessment
Units 1 and 2 are both assessed through a 1 hour 30 minute examination paper set and marked by OCR and are both worth 50% of the final GCSE grade. The exam papers have a mixture of short and long- answer questions. Unit 3 is a Controlled Assessment compulsory task and is worth 0% of the GCSE grade.
Benefits of the Qualification
It is a great way to develop critical thinking, analysis and problem-solving skills, which can be transferred to further learning and to everyday life. Pupils who want to go on to higher study and employment in the field of computer science will find it provides an essential stepping stone. Having a GCSE in Computing provides opportunities across a wide range of industries such as engineering, software companies, consumer electronics, telecommunications, security industry, medicine and many of the different sciences.
Progression
Primarily A Level Computing and Mathematics courses, however understanding programming will also be beneficial if you are thinking of going into the field of medicine or science, especially physics.
---
Key Stage 4 Information – Creative IMedia
Digital Media plays an important part in many areas of our everyday lives and is also an
important part of the UK economy. There is a demand from employers for an increasingly skilled and technically literate workforce as more and more media products are produced digitally. Cambridge Nationals in Creative iMedia provide students with specific and transferable skills and a solid foundation in understanding and applying this subject, whether it is in employment or higher education.
Cambridge Nationals in Creative iMedia are media sector-focused, including film, television, web development, gaming and animation, and have IT at their heart. They provide knowledge in a number of key areas in this field from pre-production skills to digital animation and have a
motivating, hands-on approach to both teaching and learning. Cambridge Nationals deliver skills across the whole range of learning styles and abilities, effectively engaging and inspiring all students to achieve great things. This course is growing in popularity in the school and nationally.
Units and Assessment
R081: Pre-production skills – Written paper – 1 hour 15 mins
R082: Creating digital graphics – Centre assessed task – OCR moderated
R086: Creating a digital animation – Centre assessed task – OCR moderated
R092: Developing digital games or R088: Creating a digital sound sequence – Centre assessed task – OCR moderated
Assessment
Cambridge Nationals in Creative iMedia consist of two qualifications: an Award (requiring two
units), a Certificate (requiring four units). The qualification is a vocational qualification and all our students follow the certificate route giving them the equivalent of a recognised GCSE
qualification.
Progression
Study A level or BTEC in Computing, ICT, Game Design, Graphics, Media studies, Computing & IT
Careers include: game technician; game design; web design; television production; digital
technician; 3D animator
Prerequisites
When choosing this options for GCSE pupils with strengths in Maths and Science are better
aligned with the computer science options due to the programming and algorithm elements.
While students with strengths in the arts and English are better aligned with the Creative iMedia option. However, there is an element of programming in Creative iMedia where students can be flexible in using their chosen programming language for the gaming option using scratch or python/Godot.
Resources
Cambridge Level 1/Level 2 Pre-production skills and creating digital graphics (ISBN 978-1-
4718-8668-3)
Creative iMedia OCR (ISBN 978-1-5104-5720-1)
CGP GCSE Computer Science OCR for the grade 9-1 exams (ISBN 9781789085563)
---
Extra Curricular
Code Club
Gaming for programmers
Animation
---
Curriculum Roadmaps