RELIGIOUS EDUCATION
---
The Team
Mrs Taylor – Teacher of Religious Education (Deputy Subject Leader)
Mr Verkade – Teacher of Religious Education
---
Introduction To The Department
Welcome to the Religious Education Department. The RE department at St Oscar Romero's aims to engage, inspire, challenge and encourage our students, through the lens of faith, philosophy, ethics and critical thinking. We aim to help all students feel welcome, no matter their faith background, and able to engage with deep and often searching questions about faiths and beliefs. As a Catholic school our hope is that through their studies in RE students grow in personal development, and that "the mystery of what it is to be human truly become clear" (Curriculum Directory p4).
---
Key Stage 3 Information
Our programme of study is based upon the 'Religious Education Curriculum Directory for Catholic Schools' (2012) produced by the Bishops' Conference of England and Wales and it takes up 10% of the timetable.
Students in KS3 at St Oscar Romero's cover 6 units of work throughout the year. Each year includes a unit of work from these areas of study: History, Beliefs, Practices, Ethics, Relationship and Sex Education, and World religion
The content of KS3 aims to encourage students to ask big questions, to communicate effectively and listen to others, demonstrating respect for other people's beliefs and opinions. We aim to introduce students to the study of morality, questioning where our sense of right and wrong emerges from, and if our frameworks for deciding what is morally right are still relevant. The KS3 curriculum aims to really challenge students, with high level pieces of theology, philosophy, scripture analysis and ethics. We aim to build up their written and spoken skills from year 7-9, having a clear and accessible trajectory for students to follow, in order that the engage with their progress and the next steps that need to be taken. At KS3 we aim for RE to be a source of enrichment, to enhance student's spiritual, moral, social and cultural development.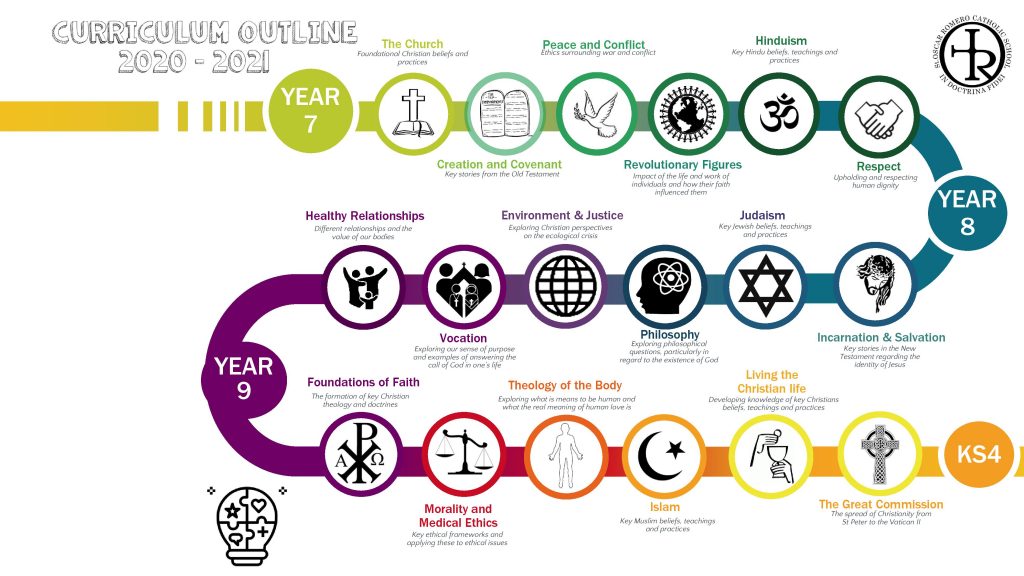 ---
Key Stage 4 Information
Students begin the RE GCSE in year 10, studying Edexcel Catholic Christianity. The 8 units of work studied over year's 10 and 11 are: Catholic beliefs and practices, sources of wisdom and forms of expression within Catholic Christianity, Islam beliefs and practices, and a unit of work on philosophy and ethics. The GCSE aims to develops learners' knowledge and understanding of religious beliefs, teachings, practices, and sources of wisdom and authority, including through their reading of key religious texts, other texts, and scriptures of the religions they are studying develops learners' ability to construct well-argued, well-informed, balanced and structured written arguments, demonstrating their depth and breadth of understanding of the subject. The course provides opportunities for learners to engage with questions of belief, value, meaning, purpose, truth, and their influence on human life. The course challenges learners to reflect on and develop their own values, beliefs and attitudes in the light of what they have learnt and contributes to their preparation for adult life in a pluralistic society and global community.
Extracurricular opportunities currently include and after school philosophy club in which we watch a part of a film and then discuss philosophical questions within the film. Further opportunities include a lunch time group aimed at Year 10 and Year 11 students to give them opportunities to deepen their wider knowledge of the subject.
Curriculum Roadmap