The award was established in 1997 by the John Muir Trust, which was formed to safeguard and conserve wild places in the UK. John Muir, a Scot, was one of the earliest ecologists/ conservationists, and was inspirational in the establishment of National Parks in the USA during the 1900's. 
The award aims to try and help pass John Muir's passion and love of the outdoors by encouraging students to connect with, enjoy and develop a sense of care for the natural environment. It is nationally recognised and attempts to meet this aim by challenging participants to: 
Discover a wild place 

Explore a wild place 

Conserve a wild place 

Share the experiences gained during these activities 
Over the course of the award, participants will be encouraged to keep a diary of their experiences by completing homework tasks which will add to their evidence.  
As part of the Technology rotation, students spend one double lesson each week for 7 weeks on Monday or Tuesday discovering, exploring and conserving the beach/woodland/Downs local environment, through a variety of fun activities. Students either travel by foot or school minibuses. As part of the award they also have a Conservation day with the rest of the Year group to enable them to share some of their experiences. More details on this part of the Award will be provided nearer the time. 
During the visits the students walk/work in changeable weather conditions, therefore, it is important that suitable clothing is worn to school on the days these sessions run.  The most suitable clothing for the sessions is a pair of tracksuit bottoms, trainers or perhaps wellington boots, a t-shirt, warm top and a rain jacket. If the student is attending the Monday Session they bring a break snack as they are off site at break time. 
Once students have completed the first part of the Award known as the Discovery Award they can continue onwards in Year 9 to the Exploration and Conservation Awards which are part of Level 3 and 4 of the Pillars of Possibility 'Be Proactive' Pillar. 
If you have any questions please email [email protected]
Yours sincerely
Mr P Dean
Extended Learning leader – John Muir Award coordinator 
John Muir Award Photos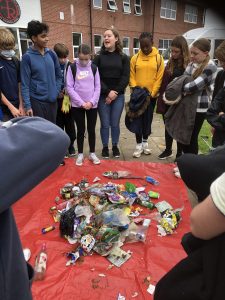 Here is an example of one of the visits. 
The John Muir Discovery Award set off with gusto this season allowing Year 8 classes to spend some quality time in the wild. Each Year 8 has the opportunity to join a group within their technology rotation and to spend 7 weeks discovering the sea, beaches, rivers, Downs, and local conservation projects like Brooklands Park and the Adur and Worthing Rivers Trust EPIC project in Lancing. 
'I am thrilled with the way the students have coped with the course, they show great signs of resilience in everything they do. I am also thrilled that the vast majority of the year group state that the John Muir Award is their favourite lesson of the year. We have lots of muddy and wet fun with some active and relevant learning on the way'. Mr Dean (John Muir Teacher and Extended Learning Leader) 
'I always look forward to going on the John Muir Award, we get out of the classrooms and we take part in environmental conversations and learning that makes you think'. (Sidney Beasley – Year 8 student) 
'Mr Dean, we had to put an extra wash load on today because of your lesson. My daughter is beaming from ear to ear!' (Year 8 parent)  
St Romero's is very proud of it's curriculum and how it develops the students' minds and spirits. The John Muir Award is a very effective way of engaging the learning and allowing the students to learn from experience. All the Year group took part last season and received a certificate allowing then to progress to the next level – The John Muir Exploration Award